Webinar - eProcurement Industry Accelerator for IFS Applications™

Presentation: Marc Weijenburg, Pre-Sales Consultant

On Thursday July 30th we gave a webinar to learn more about our eProcurement Industry Accelerator. This solution, fully integrated with IFS Applications™, enables you to digitally transform your current procurement process within IFS.


Content of this webinar
An introduction to Decos and our history (0.00)
Our journey as IFS partner (2.38)
Our range of Industry Accelerators (6.19)
A demo of the eProcurement solution (13.23)


Questions about eProcurement?
Do you have questions or do you want to get started with eProcurement?
We are happy to help you! Please fill in the form and we will contact you as soon as possible.


Read also: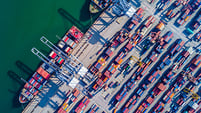 Case: International Maritime Industries
International Maritime Industries in Saudi Arabia is the largest full-service maritime yard for shipbuilding and drilling rigs in the world. Our Industry Accelerators help them manage supplier relationships, e-Tendering and Procure to Pay.
More about our Industry Accelerators
In addition to eProcurement, Decos also offers a supplier portal and a customer portal. These can be fully integrated on the IFS platform and help you to get an even better view of your business processes.