Stay informed of all developments
Receive news, tips and information about our products
In our newsletter, Decos eNews, we keep you informed about all developments of our company and our products. This way, you won't miss out on any of our (online) events, news and tips about our products.

Subscribe via the form on the right!
Read more: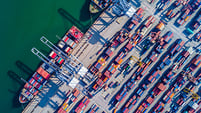 Case: International Maritime Industries
International Maritime Industries in Saudi Arabia is the largest full-service maritime yard for shipbuilding and drilling rigs in the world. Our Industry Accelerators help them manage supplier relationships, e-Tendering and Procure to Pay.
More about our Industry Accelerators
In addition to eProcurement, Decos also offers a supplier portal and a customer portal. These can be fully integrated on the IFS platform and help you to get an even better view of your business processes.